Polish Arts Club of Trenton, New Jersey

Dedicated to Polish Arts and Culture Since 1946

Witamy - Welcome!

The Next Meetings Are:

October 7 @ 7 PM November 4 @ 7 PM
Follow us on

---
National Polish American Sports Hall of Fame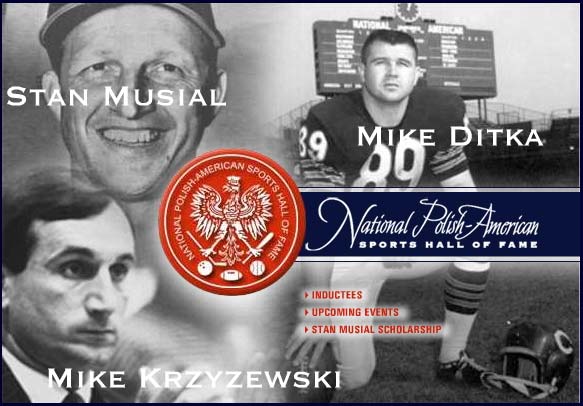 The National Polish-American Sports Hall of Fame was founded in 1973 to honor those who have achieved greatness in their sport and community. The NPASHF strives to be a national platform of Polish-American pride through the recognition of the athletic achievements of its members.

The mission of the National Polish-American Sports Hall of Fame is to recognize and preserve outstanding achievement by individuals of Polish heritage in the field of sports and to educate the entire community with the hope of encouraging and inspiring personal excellence.


2013 Inductees to the National Polish-American Sports Hall of Fame
Submitted by Fred Brodzinski. Thanks Fred!!
---

The Spy Who Loved
The Secrets and Lives of Christine Granville
By Clare Mulley

The Untold Story of Britain's First Female Special Agent of World War II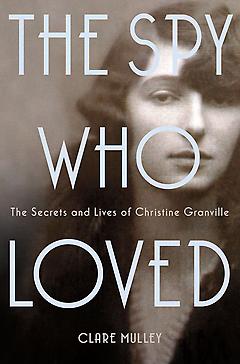 In June 1952, a woman was murdered by an obsessed colleague in a hotel in the South Kensington district of London. Her name was Christine Granville. That she died young was perhaps unsurprising; that she had survived the Second World War was remarkable.

The life of the beautiful, fiercely brave, and spirited Christine Granville has gone largely unnoticed by the American public until now with the publication of Clare Mulley's THE SPY WHO LOVED (St. Martin's Press, June 11, 2013). This well-researched and fascinating biography of Ms. Granville, Britain's first female special agent of World War II, provides an intimate portrayal of the charismatic woman who saved many lives, broke many hearts, and time-and-again risked her own life to fight for freedom against the Nazis.

Born Krystyna Skarbek on May 1, 1908 in Warsaw, Poland (and interestingly enough a relative of composer Fryderyk Chopin), Christine inherited her father's zest for adventure, taking up horseback riding and skiing at an early age. Little did she know that as a young woman during World War II she would utilize her skill on the slopes to ski from Hungary over the steep snow-covered Tatra Mountains to Nazi-occupied Poland on several top secret missions, including an unsuccessful attempt to help her Jewish mother escape from the Nazis.

Christine's "joie de vivre" as a child manifested itself into a need to do all she could to assist the allies. Fleeing to Britain at the outbreak of World War II, she was recruited by the intelligence services and took on mission after mission, parachuting into occupied France, serving in Egypt and North Africa, and helping to organize a system of Polish couriers who brought intelligence reports from Warsaw to Budapest. Her courage, quick wit, and determination won her release from arrest more than once, most notably when she feigned symptoms of pulmonary tuberculosis by biting her tongue until it bled, saving herself and one of her many lovers, Polish army officer, Andrzej Kowerski, from the Gestapo. The intelligence she gathered during the war was a significant contribution to the Allied war effort, and she was awarded the George Medal, the OBE, and the Croix de Guerre.

It was a miracle that Christine survived the war but in an ironic turn of events when she was murdered in a hotel in the South Kensington district of London by an obsessive colleague whose advances she rejected. Charismatic and fearless, Christine was an extraordinary woman whose legacy lives on through Mulley's writing.

Clare Mulley is the author of The Woman Who Saved the Children: A Biography of Eglantyne Jebb, which won the Daily Mail Biographers' Club Prize. She is a member of The Social History Society, The Voluntary Action History Society, The Women's History Network, The Royal Society of Literature, The Biographer's Club, The Society of Authors, English PEN, Walden Writers, The Fawcett Society, and The National Secular Society. Mulley is a seasoned public speaker and literary chair, with extensive experience making presentations and lecturing in academic conferences, literary festivals and museums throughout the UK. She lives in London with her family.


The book is available in many stores and online. Here is a link to the book on Amazon

A book review in the NY Times


---

Bloodlands
Europe Between Hitler and Stalin
By Timothy D. Snyder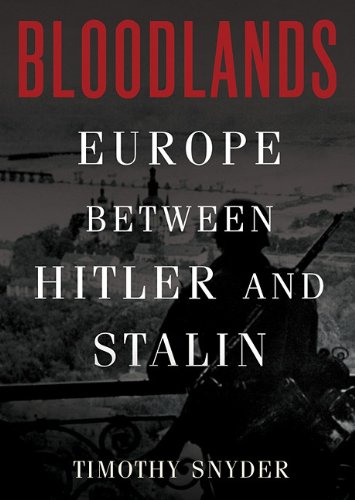 Bloodlands: Europe Between Hitler and Stalin is a book written by Timothy D. Snyder, first published by Basic Books on October 28, 2010. The book is about the mass killing of an estimated 14 million non-combatants by the regimes of Joseph Stalin's Soviet Union and Adolf Hitler's Nazi Germany between the years 1933 and 1945.. Snyder finds similarities between the two totalitarian regimes, and many forgotten or misremembered parts of the history, such as the fact that most of the victims of the two regimes died outside their respective concentration camps. He estimates, contrary to a commonly held view, that the Nazis were responsible for about twice as many noncombatant killings as Stalin's regime.

There are many studies available that document the most brutal chapters of 20th-century history. The Holocaust is well-covered in both scholarly and popular volumes, and even lesser-known subjects, such as the Soviet 'Great Terror', the Warsaw Rising and the postwar expulsions of the Germans, have all found their own champions in print.

Yet, to date, nobody has sought to place all of these grim examples of man's inhumanity to man into a single all-encompassing narrative. That is the task that the Yale historian Timothy Snyder has set for himself with his new book Bloodlands. Snyder concentrates his attentions on the very epicentre of those horrors, the ''Bloodlands'' of the title, the territories between Germany and Russia comprising mainly Poland, Lithuania, Ukraine and Belarus, which bore the brunt of the killing in the mid-20th century.

It was there, Snyder suggests, that the two most murderous totalitarian regimes of the time competed, co-operated and overlapped through 20 of the darkest years of human history.

Consequently, it was there that as many as 14 million lives were lost; not through military action, but through deliberate state policy of starvation, execution, maltreatment and gassing.

Professor Snyder is an excellent guide through this man-made hell. A talented historian and an accomplished storyteller, he expertly negotiates an extremely complex story, debunking myths, correcting misconceptions and providing context, analysis and human interest in equal measure, always with a sympathetic ear for the victims themselves.


Interview with Paper Trails on NPR and the author Second interview with Paper Trails on NPR and the author

The book is available in many stores and online. Here is a link to the book on Amazon

A book review in the Economist


An excellent submission by Fred Brodzinski. Thanks Fred!!


---
Kinga Augustyn's Album of Polish Violin Music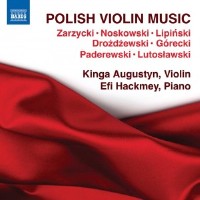 The Philadelphia Chapter was pleased to host two outstanding performances by Polish violinist Ms. Kinga Augustyn (Christmas and Summer concerts). Ms. Augustyn has just released a brand new CD featuring lesser-known, but truly outstanding, violin works by Polish composers. Many of these compositions have not been recorded before.

Polish-born and New York City based violinist Kinga Augustyn has been described as an "adventurous performer valuable to New York's scene" (NY Concert Review), "a violinist for whom nothing seems too difficult" (Nowy Dziennik Polish Daily News), "stylish and vibrant" (The Strad Magazine). She has performed as a soloist with orchestras in the United States and Europe. Among them are the Magdeburg Philharmonic Orchestra, the Chamber Orchestra Leopoldinum, the Wroclaw Philharmonic Orchestra, the American Academy of Conducting Orchestra at the Aspen Music Festival, the Empire State Sinfonia, the Gateway Classical Music Society Orchestra, the Broadway Bach Ensemble, the Glacier Symphony, and the Augusta Symphony Orchestra.


Hear a sample track and order your autographed copy

Listen to more music by Kinga Augustyn in both audio and video clips

Another great submission by Fred Brodzinski, our sites top contributor. Thanks Fred!!
---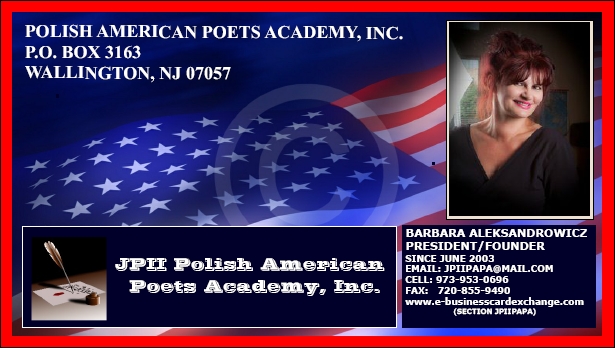 Barbara Alex Aleksandrowicz is elated to announce the 10th Anniversary of the Polish American Poets Academy. Barbara is the President of the Academy and is proud to say that the Academy has achieved its reputation, quite deservedly, as a Polish American treasure. The mission of the Polish American Poets Academy is to support and promote Polish American poets at all stages of their careers and to foster the appreciation of poetry. The Academy sponsors poetry contests, a Poet of the Year competition, poetry readings, poetry books promotion and offers workshop, critic services, translation from Polish into English, help in finding publishers on Polish and American Poet's Market, and a poetry book revising.

The Academy needs your support. Without it cannot be self-sustaining. As a Sponsor you will give strength and life to a variety of Academy programs which touch the lives of literally hundreds of thousands of Polish Americans every year. Your support will help to provide education for poets, sponsor poetry contests and other events, sustain our websites and cover operational costs. Any form of support will be greatly appreciated, especially financial. The Polish American Poets Academy is non-profit 501 (c)(3) charitable organization. All donations are tax-deductible.


Follow the Academy on Facebook
---
Polish Arts Club Photo Album




Please patronize our gracious advertisers including:
100% of the advertising contributions directly support the scholarship fund.

We sincerely thank each and every advertiser for their support.

CLICK HERE TO VIEW ALL OF OUR ADVERTISERS
---

Behind Closed Doors Film Event and
Polish Arts Club Reception Dinner with Dr. Marek Konarzewski

The Polish Arts Club of Trenton was honored to have Dr. Professor Marek Konarzewski from the Embassy of the Republic of Poland in Washington DC as their guest speaker. Dr. Konarzewski provided further insight to the Laurence Rees film "Behind Closed Doors" held on October 24, 2010. The event was attended by 250 people at the Mercer County Conference Center. Selected portions of the film were shown along with superb commentary from Dr. Konarzewski. Opening remarks were offered by Dr. Patricia C. Donohue, President of Mercer County Community College Dr. Konarzewski also answered questions from the audience. Light refreshments were served afterward along with a wonderful display table guarded by a Polish Soldier, Krzystof J. Czuj. The Polish Arts Club applauds the audience for their interest and suport. The Polish Arts Club is very grateful to the American Council for Polish Culture (ACPC) for a grant which made this in part possible. We also thank the following donors for their support: Leonardo's II Restaurant, Pulaski Meats at the Trenton Farmers Market and Paul Bosse. There have been nothing but great comments about the event. The committee was chaired by Donna Chmara and William Muszynski. Sto Lat to the the entire committee for all of their hard work planning and executing a great event!



You are visitor number

since January 11, 2008
Thanks for stopping by!
This site created and maintained by Kirk E.
Questions, comments and suggestions are welcome.
Follow the "Contact Us" button below






Site last updated September 16, 2013





Katyn Forest Massacre Monument in Katowice, Poland