---



Finding Your Polish Roots

Problems, Challenges, Solutions

A Presentation by Peter Obst


Mr. Peter J. Obst presented "Finding Your Polish Roots" to the Polish Arts Club membership at a recent monthly meeting. Mr. Obst presented some of the problems, challenges and soulutions to tracing your Polish ancestry. You can start at home looking through documents such as birth, batismal, marriage and death certificates, letters, passports, citizenship papers and military records. There are many public records you can search such as the US census, naturalization papers, Social Security applications, draft registrations, passenger lists, and other US records.

Mr. Obst's presentation is provided here with his permission in both MS Power Point and Adobe PDF formats. I have also taken some of the links from the presentation and listed them below.


Finding Your Polish Roots - in MS Power Point

Finding Your Polish Roots - in Adobe PDF format

Family Search - A free site

Ancestry.Com - Subscription Based

U.S. Census


U.S. National Archives

Pinkowski Files - A Data Base of American Polonia

Genealogy Resources - from the Polish Mission

Recommended Book Sto Lat: A Modern Guide to Polish Genealogy

Other Books - from St. Mary's Bookstore, Orchard Lake MI


---
New Translation of Sienkiewicz Works Showcases Polish Author's Humor & Wit

Three Stories

by Henryk Sienkiewicz (Author), Peter J. Obst (Translator)


Various works of Henryk Sienkiewicz have been translated into English at different times by different translators. The latest offering is Henryk Sienkiewicz: Three Stories. This short collection presents three of Sienkiewicz's humorous stories that have been practically forgotten: "A Comedy of Errors" (based on small town life in the American West), "The Authoresses" (a sketch about children, not for children) and "The Third One" (a romantic comedy).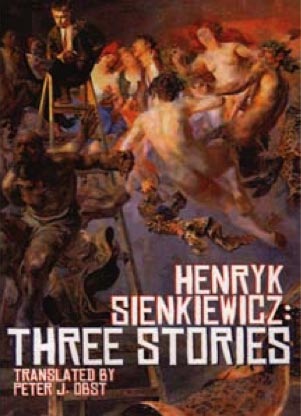 Thanslator/writer Peter Obst has breathed new life into these lively tales rendering them into a form accessible and understandable to english Speaking readers. Those who care to sample the wit and humor of Poland's most famous writer will be delighted by these stories. Light and exuberant, they are a world away from the cruel reality and melodrama of the better know: "Lighthouse Keeper," "Janko Musician," and "For Bread." The book, published by Wildside Press (and featuring Jacek Malczewski's painting "Vicious Circle" on the cover) is available from Amazon.Com.

Peter J. Obst is a lecturer at LaSalle University and a researcher for The Poles in America Foundation, established by historian Edward Pinkowski. He received his BS in Commerce and Engineering from Drexel University (1977) and his MA in Central and East European Studies from LaSalle University (2004). He also studied at the Jagiellonian University in Krakow. Several of his book-length translations from Polish have been published: Lech Walesa: Democrat or Dictator?, My Flights to Freedom, A Family from Sosnowiec, and A Man Who Spanned Two Eras. His articles have appeared in The Wall Street Journal Europe, Private Pilot magazine, the Polish-American Journal, Nowy Dziennik, Post-Eagle and other Polonia and American mainstream publications. The recently published Polish American Encyclopedia (edited by James Pula) contains nine entries he authored. He contributed 42 photographs to Allan M. Heller's album Monuments and Memorials of Philadelphia. He is active in the Kosciuszko Foundation (KF) and the American Council for Polish Culture (ACPC).

Check out Mr. Obst's latest book translation by clicking the book image above or go direct to Amazon.Com. While your there, click on Peter's name and see his other books.




---
Col. Francis Stanley "Gabby" Gabreski

Polish American Fighter Pilot

WWII and Korean War Ace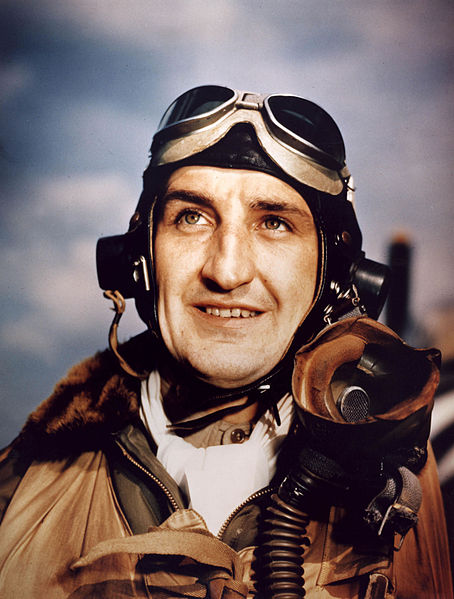 Francis Stanley "Gabby" Gabreski (born Franciszek Gabryszewski; January 28, 1919 - January 31, 2002) was the top American fighter ace in Europe during World War II, a jet fighter ace in Korea, and a career officer in the United States Air Force with more than 26 years service, retiring with the rank of colonel.

Although best known for his credited destruction of 34½ aircraft in aerial combat and being one of only seven U.S. combat pilots to become an ace in two wars, Gabreski was also one of the Air Force's most accomplished leaders. In addition to commanding two fighter squadrons, Gabreski had six command tours at group or wing level, including one in combat in Korea, totalling over 11 years of command and 15 overall in operational fighter assignments.

Gabreski's official Air Force biography states:

Gabreski's parents had emigrated from Poland to Oil City, Pennsylvania, in the early 1900s. His father (Stanley Gabryszewski) owned and operated a market, putting in 12-hour days. Like many immigrant-owned businesses in those days, the whole family worked at the market. But Gabreski's parents had dreams for him, including attending Notre Dame University. He did so in 1938, but, unprepared for real academic work, almost failed during his freshman year. During his second year at Notre Dame, Army Air Corps recruiters visited the campus. Gabreski went to hear them, primarily because his friends were going. The Army's enticing offer impressed him and he enlisted, reporting in July 1940.


See the entire story
---
WWII in Photos

A Retrospective in 20 Parts

by Alan Taylor

Originally published in TheAtlantic.com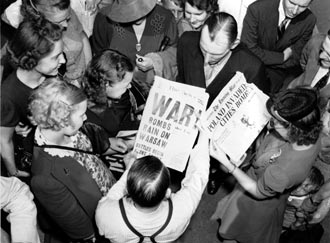 World War II is the story of the 20th Century. The war officially lasted from 1939 until 1945, but the causes of the conflict and its horrible aftermath echoed for decades in both directions. While feats of bravery and technological breakthroughs still inspire awe today, the majority of the war was dominated by unimaginable misery and destruction. In the late 1930s, the global population stood at approximately 2 billion. In less than a decade, the war between the nations of the Axis Powers and the Allies resulted in some 80 million deaths -- killing off about 4 percent of the whole world.


The photo at left shows a crowd reading newspaper headlines, "Bombs Rain On Warsaw" as they stand outside the U.S. State Department building where diplomats held a conference on war conditions in Europe, on September 1, 1939.


This series of entries was published weekly on TheAtlantic.com from June 19 through October 30, 2011, running every Sunday morning for 20 weeks. In this collection of 900 photos spread over 20 essays, Alan Taylor tried to explore the events of the war, the lives of the people fighting at the front and working back home, and the effects of the trauma on everyday activity. These images still give us glimpses into the experiences of our parents, grandparents and great grandparents, moments that shaped the world as it is today.

To see the entire 20 part series click this link: WWII Photo Spread


Provided by the Polish Arts Club of Trenton
---

The Spy Who Loved
The Secrets and Lives of Christine Granville
By Clare Mulley

The Untold Story of Britain's First Female Special Agent of World War II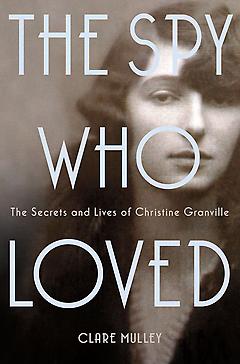 In June 1952, a woman was murdered by an obsessed colleague in a hotel in the South Kensington district of London. Her name was Christine Granville. That she died young was perhaps unsurprising; that she had survived the Second World War was remarkable.

The life of the beautiful, fiercely brave, and spirited Christine Granville has gone largely unnoticed by the American public until now with the publication of Clare Mulley's THE SPY WHO LOVED (St. Martin's Press, June 11, 2013). This well-researched and fascinating biography of Ms. Granville, Britain's first female special agent of World War II, provides an intimate portrayal of the charismatic woman who saved many lives, broke many hearts, and time-and-again risked her own life to fight for freedom against the Nazis.

Born Krystyna Skarbek on May 1, 1908 in Warsaw, Poland (and interestingly enough a relative of composer Fryderyk Chopin), Christine inherited her father's zest for adventure, taking up horseback riding and skiing at an early age. Little did she know that as a young woman during World War II she would utilize her skill on the slopes to ski from Hungary over the steep snow-covered Tatra Mountains to Nazi-occupied Poland on several top secret missions, including an unsuccessful attempt to help her Jewish mother escape from the Nazis.

Christine's "joie de vivre" as a child manifested itself into a need to do all she could to assist the allies. Fleeing to Britain at the outbreak of World War II, she was recruited by the intelligence services and took on mission after mission, parachuting into occupied France, serving in Egypt and North Africa, and helping to organize a system of Polish couriers who brought intelligence reports from Warsaw to Budapest. Her courage, quick wit, and determination won her release from arrest more than once, most notably when she feigned symptoms of pulmonary tuberculosis by biting her tongue until it bled, saving herself and one of her many lovers, Polish army officer, Andrzej Kowerski, from the Gestapo. The intelligence she gathered during the war was a significant contribution to the Allied war effort, and she was awarded the George Medal, the OBE, and the Croix de Guerre.

It was a miracle that Christine survived the war but in an ironic turn of events when she was murdered in a hotel in the South Kensington district of London by an obsessive colleague whose advances she rejected. Charismatic and fearless, Christine was an extraordinary woman whose legacy lives on through Mulley's writing.

Clare Mulley is the author of The Woman Who Saved the Children: A Biography of Eglantyne Jebb, which won the Daily Mail Biographers' Club Prize. She is a member of The Social History Society, The Voluntary Action History Society, The Women's History Network, The Royal Society of Literature, The Biographer's Club, The Society of Authors, English PEN, Walden Writers, The Fawcett Society, and The National Secular Society. Mulley is a seasoned public speaker and literary chair, with extensive experience making presentations and lecturing in academic conferences, literary festivals and museums throughout the UK. She lives in London with her family.


The book is available in many stores and online. Here is a link to the book on Amazon

A book review in the NY Times